The Persuasive Actor Workshop
Milan Dragicevich
2023 DATE TBA
In an intimate setting, this is a 3-hour workshop you will not want to miss! Based on his new book, The Persuasive Actor: Rhetorical Power on the Contemporary Stage, Milan Dragicevich offers rhetorical training for actors, necessary for classical or contemporary theatre. From Homer to Shakespeare, Tom Stoppard to Lisa Loomer, Milan inspires us to look at language in a powerful, theatrical way. Only 20 spots available.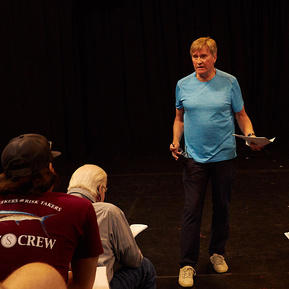 "Milan is doing such important work for the American actor. He is a mesmerizing presence who is articulating techniques every actor should explore to bring not only the classics, but all story telling to life. Every acting school should be using the skills he demonstrates so passionately with such clarity and accessibility."

-- Apollo Dukakis

"Milan has been my onstage partner, my teacher, my audition coach and my friend. In all roles, he inspires me to go further. His enthusiasm for heightened language is ridiculously infectious! He's the Mick Jagger of classical rhetoric!"
-- Susan Angelo
Milan Dragicevich

As an actor, Milan Dragicevich has performed at regional theaters across the country, including Oregon Shakespeare Festival; Hartford Stage; Pasadena Playhouse; Will Geer's Theatricum Botanicum; and more recently with the Northern New England Repertory Theatre Company in Massachusetts.

Milan is interested in the power of the spoken word and the daring use of vibrant language on stage. In his work, he applies principles of classical rhetoric to the performance of verbally adventurous contemporary plays and texts, from Shakespeare to Tom Stoppard to Hip-Hop Theater and more....

Milan is a Professor of Theater at the University of Massachusetts, Amherst and has authored two plays: Refugee, which traveled to the Joakim Interfest International Theatre Festival in Serbia (2018); and the award-winning Milosević at The Hague (Special Jury Prize, Joakim Interfest, 2009).

His book, The Persuasive Actor: Rhetorical Power on the Contemporary Stage (Hackett Publishing) is now available.